It wouldn't be an overstatement to say that we've done 5 years' worth of digital transformation in the last 18 months across virtually every industry – courtesy the COVID-19 Pandemic. Healthcare is no exception. 
Jayanthi Narasimhan is the founder and CEO of healthcare startup WatchRx. She's been leading this transformation as she worked to solve a personal pain.
She says, "Few years ago, my mom was ill, and her health was getting worse. She was taking as many as 10 different medications daily, and it was impossible for her to keep up with such a complicated regimen. She was readmitted to the hospital multiple times because she took the wrong medication at the wrong time or just forgot to take it all together.
Since my mom lives in India, I used to call her daily to remind her to take her medications. I searched for a simple solution that would remind her to take her medications and keep me updated with her status, but I could not find one. That is why I started WatchRx." 
There is complaining and there is solving. Jayanthi saw a problem and worked to solve it. And now, there is a solution to the pervasive problem of medication adherence. This is especially helpful to seniors and their caregivers.  
Big deal? Yes.
Chronic diseases are the leading cause of disability and death in the United States. 40% of American adults take 5 or more medications to treat their chronic illness, including heart disease and diabetes. Chances are that a parent, a sibling, a friend or maybe you are among this group. Many patients are hospitalized because of medication non-adherence – for example, not taking their medicine on time or in the right dosage.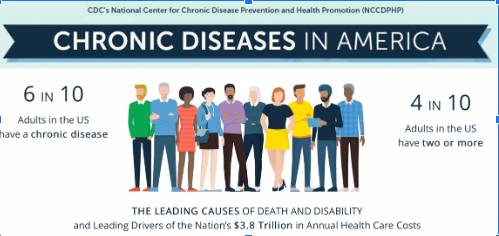 Chronic disease management is a serious and costly problem for all the stakeholders. On average, caregivers spend 24 hours per week taking care of a loved one. If you're a family caregiver, you're exhausted giving care while balancing a career. If you're a doctor, you may be among the 54% who say that they're burned-out trying to keep your patients healthy. 83% of hospitals are fined annually by the Centers for Medicare & Medicaid Services (CMS) for transitional care & medication adherence related issues. The bill? $563M every year and growing. This is a subscription service that you want to cancel but can't.
It doesn't have to be this way. There are many tech solutions to consider and WatchRx should be on your list. This senior-friendly smartwatch-based RPM and chronic-care management solution is purpose-built to help caregivers, doctors, and hospitals deliver personalized, cost-effective care so that their loved ones and patients live healthy and independent lives.  
Some of the impressive capabilities include visual medication reminders, including a photo of the pill on the watch display, that repeat until the patient takes the medicine within the specified time limit, automatic collection of vitals (e.g., BP, Heart Rate), real time caregiver alerts when patients miss medications, behavioral data collection, predictive analysis, and correlation to medication adherence.